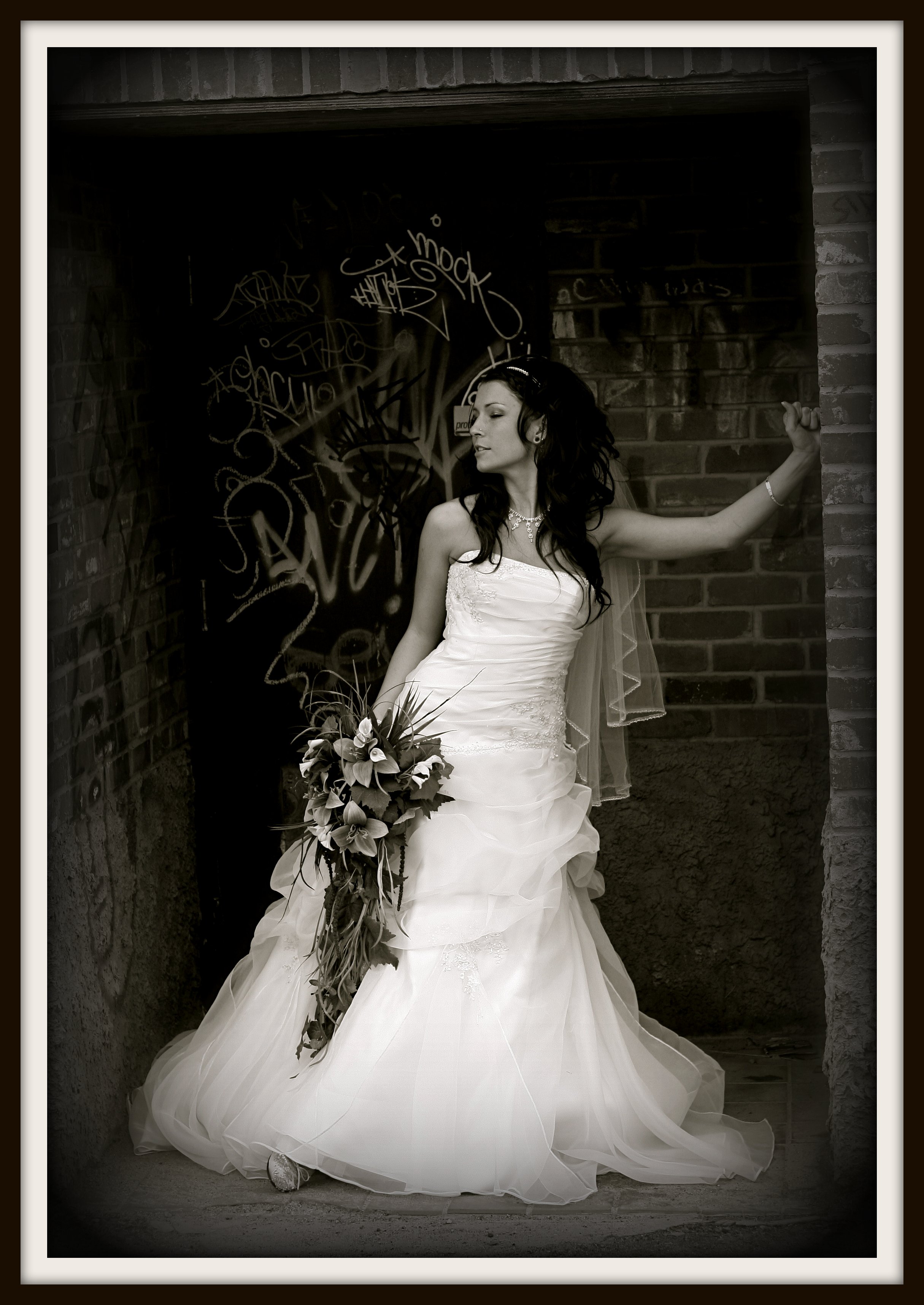 Maxxum - Photojournalism/portraiture for the day (till 11:00 p.m.) (photography and images on disc and/or online gallery)
I am on call for your wedding alone, no other bookings for the whole day. Most of the day photographed in a candid photojournalistic style, but with some time set aside for more formal portraits as well. Imagine what we can cover! From the hairdressers and makeup, ceremony, formals, supper, toasts - to the dance, cake cutting and flower toss and anything else you want covered in between.
Option A: Includes 800-1000 images proof/viewing resolution images on DVD and two month online gallery for family and guests to order prints and merchandise

$1500
Option B: No online gallery but includes full resolution images on DVD suitable for making prints and enlargements from.
$1700
The Deluxe - The eight hour day (photography and proofs)
This includes up to 8 hrs hours of photographic coverage wherever you want. Includes between 230-300 images in a proof album to keep. Depending on your start time, this package may include the ceremony, formals, supper, toasts and the beginning of the dance. You can also add time if you need to on that day (subject to photographer's availability)
$875

Free and Clear - Time based Keep your full resolution files!
For the do-it-yourself couple, here's a package with a neat twist! With this package, I photograph the day's events, transfer the high resolution files onto CD or DVD and hand it all over to the couple. The copyright ownership is transferred to the wedding couple and they are free to make prints and enlargements (at significant savings) whenever they want at a lab of their choice. This package is available in either 6-9 hr lengths. If additional time is needed it can be added at $50 per half hour. (Subject to photographer's availability)
$1300 - Nine hours
$1000 - Eight hours
$850 - Seven hours
$750 - Six hours
A Bit More Time - If things are running a little late and you request photography beyond the time allowed it will be billed at $50 per half hour (in half hour increments only, subject to photographer's availability)
Just the Formals - (just the formal portraits session but also includes finished prints and albums)
This session can be photographed before or after the wedding. This includes the bridal portrait, wedding party, and family members. up to 2 hrs. (on location) Includes approx. 45-65 proofs, 1-11X14, 4-8X10's, 12-5X7's, 2 "parent albums" that each contain 20 4X6's, plus an additional 20-4X6 loose "gift" prints as well as 100 photo thank you's with envelopes. (Print package can be customized)
$950
or... without prints, albums and thank you cards...

$600 for high resolution images delivered on DVD for wedding couple to keep

Just the Ceremony
This candid photography package starts approx. 20 minutes before the ceremony (guests arriving and bridal party and parents getting ready) and ends approx. 20 min. after the ceremony.
Images are uploaded to an online site where family and friends can order prints from
$350
or... without online ordering

$500 for high resolution images delivered on DVD

(Please note: this package can only be booked on short notice, no more than one month prior to wedding)
The Everything Package - All day photography, wedding books, prints and digital files
Capture the entire day in a spontaneous, photojournalistic style

Includes
All day coverage, till 1:00 am no restrictions on number of locations

Hard cover wedding book (coffee table book - 13 X 11 in. 250-300 images)
2 additional copies of wedding book for parent albums included - additional copies available for $195 each
100 photo thank you cards

In addition:
For the wall or mantle (parents, relatives, bridal party, and yourselves)
Suitable for framing or placement in photo albums
3 - 8X12s
8 - 5X7s
20 - 4X6s
1 - 11X14
And finally... all images (in digital files) in high resolution burned to DVD-ROM for you to keep and make any other prints and enlargements for yourself, or to share online with friends and family.
$2800
Mileage fees will apply for distances of 10 km or more from city limit